Dr. Vroom Vroom Trading(DVVT)
DVVT (KT0251865-A) was established as a sister company for ACE TECH works as Sales & Marketing arm to capture more market share in specific business region and market segment, especially in this competitive global oil price living environment. It provides the similar business development function by offering our valuable customers with good quality consumable, commodity and commercial products, including professional services and consulting in mechanical and manufacturing field.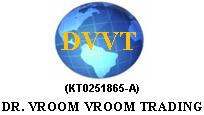 Dr. Vroom Vroom Trading(DVVT)(KT0251865-A)
3400 Wakaf Delima
16250 Wakaf Bahru
Kelantan
Malaysia

Contact person: Vincent Ho
H/P# +60(13)-6718833
e-mail: vince.ho@dvvt.com.my
DVVT is ready to helping our existing SMIs for materials sourcing, cost saving strategic, switching cost planning and quality control.
It is a good business partner for all the SMIs to delivery a competitive advantage in the existing business development plan.